Your online English course
Start your Lesson Live study course with a free English assessment test.
Level
Check your starting level
Assessment test

Your journey in Lesson Live begins with a free English assessment test.
The test is important to know your initial level of English
Lesson Live levels
Based on your score, you will fall into one of the "Lesson Live" levels: Bronze, Silver, Gold, Gold +, Platinum.
Written English language test
The test consists of 36 multiple choice questions structured to assess your level of knowledge regarding grammar, verb tenses and prepositions.
Oral English language test
During your completely free trial lesson (it can lasts from 10 to 25 minutes)a "Lesson Live" tutor will evaluate your comprehension and oral expression skills.
Test results
Based on the results obtained in the English language test, the teachers will adopt the best training program for you.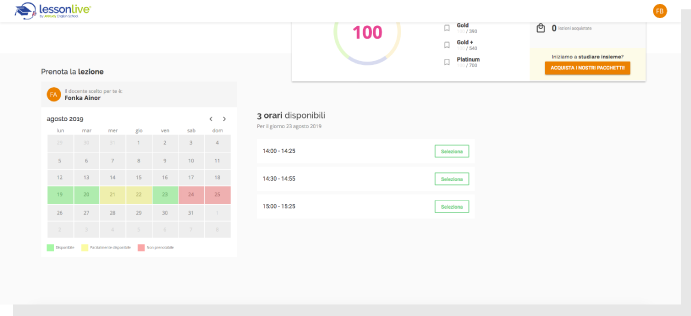 Plan your lessons
Start your lesson wherever you want and at any time, you can do it comfortably from your computer, smartphone and tablet simply by using your browser.
Plan the lessons using the calendar integrated in your control panel, you can quickly and easily choose the days and times better for your needs.
Can't you take the lesson? No problem, you can cancel your lesson up to 3 hours before the start of the lesson just  by clicking on the "Cancel lesson" button in your personal control panel.
Don't worry, you won't lose the lesson, you just canceled it: you can plan it again at any time.
Progress
Keep an eye on your progress
Check your improvements
During your journey you will have full control over your improvements and your progress thanks to the tips, displayed in your dashboard, that are prepared in real time by the teachers.
Progress Test
Every 5 lessons you will be asked to complete the "Progress Test", the teacher will check the skills you have acquired in the previous lessons and will assign a score from 1 to 10.
Reach the score necessary to unlock the "Final Test"
Get the "Lesson Live" certificates of attendance. You will have to demonstrate to your teacher that you have acquired the skills necessary to complete your educational path.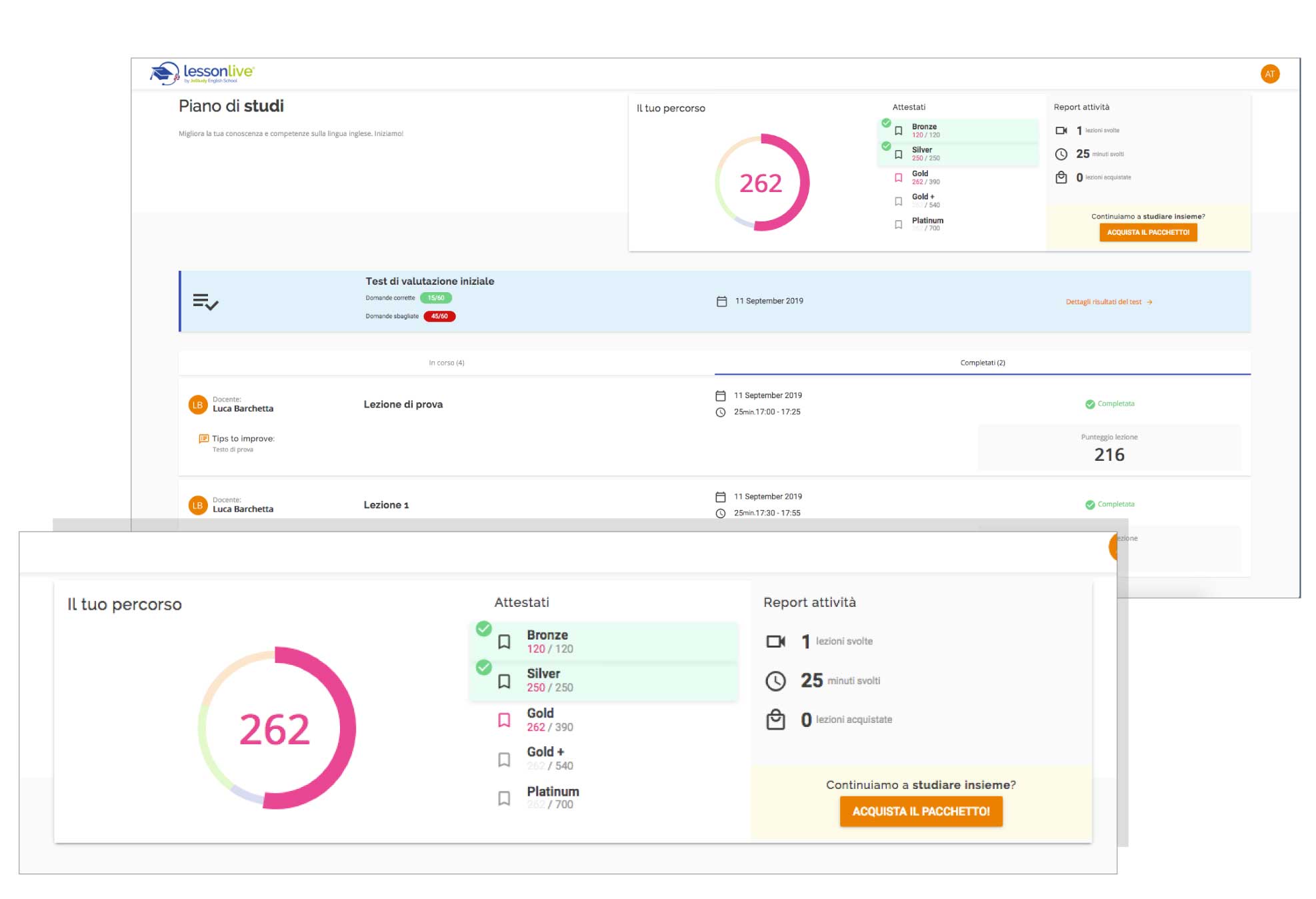 Lesson Live
Many sharing tools
Integrated video streaming system
You can access online lessons whenever you want, directly from your browser.
The chat integrated in the video streaming system will allow you to write in real time to your teacher.
The teacher will have the opportunity to share their computer screen and use it as a real "digital whiteboard".
Sharing books in English and useful exercises will never be a problem!
Plan the lessons and start your educational journey!
TEACHERS
One-to-one lessons with the teacher
The "Lesson Live" method focuses on one-to-one personalized teaching class.
You will have 25 minutes available to talk about a topic of your interest or one of the topics suggested by your teacher.
After each session, the teacher will leave a feedback on the lesson that has just ended. Learn English with a certified native English tutor.